IKHTISAS KELAUTAN MALAYSIA
30 Years of Existence - To represent, promote and protect the interests and welfare.
The Association of Malaysia's Maritime Professionals or the IKHTISAS KELAUTAN MALAYSIA (IKMAL) is a non-governmental organisation for Malaysia's seagoing and shore-based officers holding certificates of competency (CoC) of any grade, pilot licences issued by authorised Malaysian agencies or appropriate maritime-affiliated degrees. Those holding other degrees, but, who have worked for a substantial duration within the maritime industry may also be considered for membership.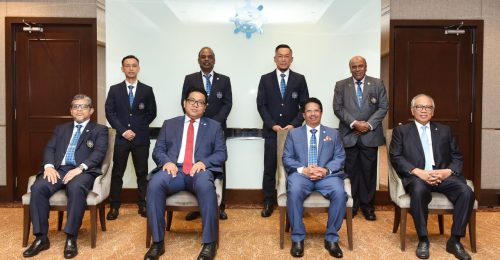 Established as the "INSTITUT" KELAUTAN MALAYSIA in 1985 admitting as Ordinary Members only the highest-level officers (holding Master Class 1 Foreign-Going Vessels or Chief Engineer Class 1 Foreign-Going CoC), it then aspired to be a body furthering their professional interests. It conducted tea-talk sessions, seminars and conferences with the aim of enhancing their knowledge, skills and competencies. It also regularly published journals containing articles of professional interests.
With the advent of the Maritime Labour Convention (MLC) 2006, IKMAL amended its constitution in 2014 substituting the word 'INSTITUT' with 'IKHTISAS', accepting CoC holders of any grade as Ordinary Members and made the furtherance of the interests and welfare of its members as its primary objective.
With that, IKMAL is now acknowledged as an organisation that could be consulted by appropriate authorities on matters relating to the betterment of seagoing and shore-based officers as well as any other issues related to the human aspect of the maritime industry.
Initially known as Insititut Kelautan Malaysia, the name was changed to Ikhtisas Kelautan Malaysia on 5th November 2014 (as approved by the Registrar of Societies, Malaysia).
1. To represent, promote and protect the interests and welfare of IKMAL's registered members by complying with generally recognized international standard operating procedures which will be monitored by its permanent Secretariat through its international links and affiliations worldwide.
2. To provide an organization and membership for such persons, who are practicing or desirous to practice the maritime profession and its marine-related activities and to promote the know-how, interests and technical competence of such persons as well as to enhance their continual professional development.
3. To promote and provide opportunities for the exchange of views amongst members of IKMAL and others and to encourage and promote the delivery of lectures, reading and discussion of papers relating to marine and its maritime related works and other topics of interest to members of IKMAL by conducting seminars, conferences and the like for the dissemination of information and exchange of opinions and viewpoints on professional maritime-related topics.
4. To serve as the national competent maritime practitioners' body which provides expert assistance, consultations and dissemination to persons, corporations and technological transfer programs related to maritime management and information exchange initiated by the Malaysian Government with relevant maritime organizations, be it local or abroad.
5. Professional Development Program: 5.1. IKMAL shall initiate and encourage the initial Continual Professional Development (CPD) programme as an obligation for all members to attain and maintain maritime professional competency.
5.2. All members should pursue their Professional Development program to advance their careers and contribute to business performance and image building for the maritime industry. The Continual Professional Development obligations of IKMAL will be encouraged and promoted through:
5.2.1. establishing professional criteria and the setting of standards and a Code of Ethics required for all categories of membership;
5.2.2. providing advice to members on their professional development plan and the maintenance of documentary evidence of same;
5.2.3. the presentation of technical papers and/or the holding of Workshops, Conferences and Seminars;
5.2.4. the circulation of maritime related journals and other materials, including notices relevant for the professional development of IKMAL members.
6. To act as a maritime professional body and exercise its function in the registration and maintenance of records of its members and to regulate and control the growth of Malaysia's maritime professionals at all levels.